| | |
| --- | --- |
| | "Mafia look at little child. Mafia see loser." |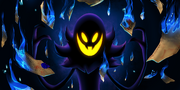 Act 6: Your Contract has Expired is the sixth and last Act in Chapter 3:Subcon Forest in A Hat in Time, it is only available after Hat Kid has done all the tasks that The Snatcher gave her.
Plot
Hat Kid has completed all the tasks given to her by The Snatcher which means that she is of no use to him now, so he decides to end Hat Kid. After the fight, The Snatchers tries to convince Hat Kid to sign a last contract to go away, but before she sign, she rewrite the contract to make The Snatcher be her friend. He is confused by Hat Kid still wanting to be his friend, so he gives her soul back, along with the last time piece he has in his possession.
Characters
Badge Seller
Trivia