| | |
| --- | --- |
| | "Mafia look at little child. Mafia see loser." |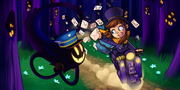 Act 5: Mail Delivery Service is the fifth Act in Chapter 3:Subcon Forest in A Hat in Time, it is only available after Hat Kid finds The Snatcher's trap and signs his contract and you can only complete the Act, if you have the Sprint Hat.
Plot
Hat Kid finds The Snatcher wearing a Mailman Hat, and he explains, that he stole mail to give it to his henchmen, so they felt like someone cares about them. He gives Hat Kid a rental badge that makes it possible to use a scooter, which shoots mail to deliver it to all of the Snatcher's Henchmen.
Characters
Hat Kid
The Snatcher
Forest Dwellers
The Snatcher Henchmen
Badge Seller
Trivia