| | |
| --- | --- |
| | "Mafia look at little child. Mafia see loser." |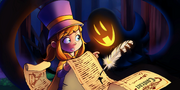 Act 1: Contractual Obligations is the first act in Chapter 3:Subcon Forest.
Plot
The Act starts with Hat Kid arriving at Subcon Forest, where she follows a shadowy figure resembling a boy that leads her to a trap made by The Snatcher who takes away Hat Kid's soul and make her work for him in order to take her soul back.
Characters
Hat Kid
The Snatcher
The Snatcher's Henchman
Badge Seller
Trivia