| | |
| --- | --- |
| | "Mafia look at little child. Mafia see loser." |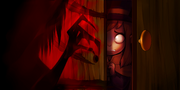 Queen Vanessa is a important character in A Hat in Time. She lives in the Manor of Subcon Forest and she has a conecction with The Snatcher.
Description
Queen Vanessa is a big shadowy figure who walks in a hunched way and has point finger in her hand and has a red aura around her. In her human form, Queen Vanessa was a blonde fair maiden wearing a Green Dress with golden ornaments.
Before A Hat in Time
long before the events of the game take place, the Subcon forest was a beautiful kingdom full of life, ruled by a princess and a prince who love each other very much, but the love that the princess felt was corrupted by the jealousy of the prince which slowly turned her into the monster she is today.
Trivia
In the artwork for The Music of A Hat in Time Queen Vanesa is in the bottom right corner, while The Snatcher appears in the top left corner.