| | |
| --- | --- |
| | "Mafia look at little child. Mafia see loser." |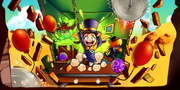 Act 4: Train Rush is the forth Act in Chapter 2:Battle of the Birds in A Hat in Time, and is the second and last Act focus on The Conductor.
Plot
Hat Kid has to, after starting the self-destruction sequence of the train, work her way to the front of the train, to disarm the bomb before it goes off - all of this is part of The Conductor's next big movie.
Characters
Badge Seller
Trivia
In the Beta build for the game, this was the first act of Trainwreck of Science, and instead of being a movie run by The Conductor, Hat Kid first had to prove to The Conductor that she wasn't like Mustache Girl by photoshopping her picture just like at the end of Dead Bird Studios in the final release, and it was the driver of the train (who would go on to become the Receptionist of Dead Bird Studios) who triggered the self-destruct sequence instead.