| | |
| --- | --- |
| | "Mafia look at little child. Mafia see loser." |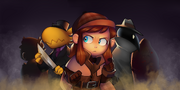 Murder on the Owl Express is the second Act of Battle of the Birds in A Hat in Time and is the first act focus on The Conductor.
Plot
Hat Kid arrives on a train, where a lot of Crows, who had entered the train on the last station, start to ask her random questions. After Hat Kid arrives at the conductor rooms, she finds a present with a detective outfit (that replaces her default outfit) and receives a weird phone call. When Hat Kid goes back to the last wagon of the train, she finds an owl with a knife in its back in a pool of blood. Now it's up to Hat Girl to find out, who was the murderer.
Badge Seller
Characters
Evidence
"Oh ho hoooo, look what we got here! A wee spoiler!"


The following contains spoilers for A Hat in Time.
In this Act, each piece of evidence you collect will point towards one of six possible suspects. If somehow, you fail to collect any pieces of evidence, you will be given a single piece of evidence so that you can accuse someone of the murder.
The suspects are, in the order that you'd get evidence for them, and including their quotes and motives:
The Conductor - "Whatcha looking at me for, peck neck?" - It's his movie, and he doesn't want to be the villain. But did he set up the crime scene to be, or at least seem real?
The Crow Agent Watch - "Protect and serve at all cost!" - Due to the fact that there wasn't much bird-related crime going on, they needed to make some crime in order to get paid. Did they stab the victim with the knife and leave him for dead?
Hat Kid's Aunt - "..." - The one who seems to be the murderer due to being the one discovered along with the body... Or is it a ploy by the voice on the phones to spice up the movie?
The Express Owls - "We've got eyes everywhere, and we saw nothing!" - The peace and quiet of the card games might have been interrupted by the victim chewing with their mouth open. But would that be enough to drive them to stab him with the knife to get some peace and quiet?
The Victim, Robin - "You can't blame a dead owl! I mean... zzzz..." - Did the victim decide to fake their own death with the knife to get out of cleaning the Owl Express?
Hat Kid - "I had to do it, or the voices wouldn't stop!" - Did Hat Kid have a hatred for society and the progress of transportation which led her to strike the first passenger she saw? Did she rip the limbs off of him? Or... Did she simply stick the knife into them and told them to play dead?
Trivia